Galaxy Garage Door Service - Highest Rated Garage Door Company Largo, MD - 301-861-2037
When you're looking for a team of professional garage door repair and installation specialists in Largo, look no further than Galaxy Garage Door Service. Our company has serviced the garage doors of homes and businesses in this community for many years now. People know that when they have a pressing concern, they can get in touch with Galaxy Garage Door Service 24 hours a day, seven days a week, and 365 days a year.
Our company is able to offer excellent pricing on our products and services because we are part of an extensive network of wholesale suppliers. By keeping our own costs low, we are able to provide value-driven services to help those in our community keep their garage door operational at all times. We also offer routine maintenance, installation services, and a wide range of aftermarket products to make your garage door more convenient to use.
Ready When Needed
Besides being part of this quality company, each one of our employees deals with their own garage door issues at home. We understand on a personal level how essential it is for your garage door to function properly. While some of our competitors may have limited hours, we believe in making things convenient for the customer and not the other way around. Galaxy Garage Door Service is pleased to carry a complete line of parts, including those for garage doors and lift systems. Our products come from the leading names in the industry, but we also have a large supply of generic parts for your garage door servicing needs.
When you see the number of products we offer, it's obvious that we know what we're doing. Whether you need cables, brackets, remotes, pulleys, or another functional part for your garage door, you can find it with Galaxy Garage Door Service. Our company even has a steady stock of specialty fittings for both custom and functional garage doors. That means you don't have to wait for us to order parts while you sit with a garage door that doesn't work.
Since we're always nearby in Largo, we can arrive to your location in under an hour from the time we receive your call. Some of the most common service requests we receive include repairing or replacing a garage door lock, making an emergency key, and resetting off-track garage doors. However, you can depend on us to correct your problem whether it is common or uncommon. Our technicians with their fully stocked service vehicles are most likely in your neighborhood already helping someone you know.
Our Services
Most people have no idea of the complexity of a garage door. It may look basic, but that's only because you don't see what's going on inside of it. The second you push your remote, numerous parts within the garage door start working in unison to enable it to open or close. Routine maintenance enables us to service all of these parts before one breaks and causes a major problem for the entire structure.
You never have to shop elsewhere to find products for your garage door system. Largo, MD sells items such as clicker and keypad openers, motion detectors, and much more. Just let us know what you're looking for at the time of service and we will locate it for you. These products make getting in and out of your garage safer and more convenient due to the ability to detect the presence of an obstruction.
The Professional Touch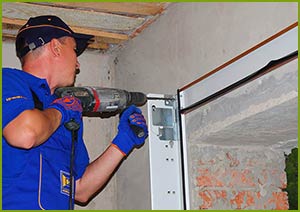 With so much at stake, you really can't afford to hire an inexperienced garage door service provider. Unfortunately, many companies hire under-qualified and entry-level technicians to save money. While they may be able to do that, you're the one who ends up paying in the end. That is because the work will likely need to be re-done at a later date. At Galaxy Garage Door Service, we would never send an inexperienced technician to your location because we don't hire them in the first place. We expect all employees to meet our rigorous performance standards and to come to us already having extensive experience and education. Galaxy Garage Door Service is proud to have the highest standards for our employees of any garage door service company in the area. It is only right that anyone we allow to represent our name has high-level skills, years of experience and training, and acts with the utmost professionalism on every job.
We Provide Highest Rated Garage Door Company in the following zip codes.